[2023 JP Morgan Healthcare Conference] 'Investors more interested in digital health' < Special < Article
SAN FRANCISCO, Calif. — By Lee Han-soo/Korea Biomedical Review correspondent – Healthcare providers and innovative companies are turning to digital healthcare as a solution to address the vulnerable medical systems such as physician burnout and healthcare access inequality.
Korea Biomedical Review met with Gil Yeong-joon, CEO of Huinno, one of the leading Korean digital healthcare companies, to hear about the industry trends and the U.S. investment sentiment at the sidelines of the 2023 J.P. Morgan Healthcare Conference.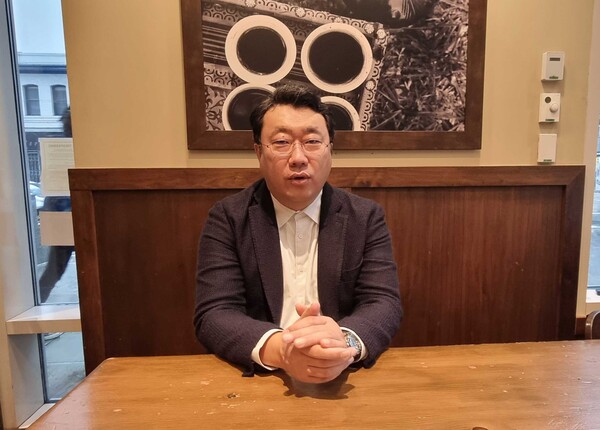 Huinno develops electrocardiogram (ECG) wearables and AI-based heart disease healthcare services.
The company is set to release "Memo Patch," an ECG monitoring service that can supplement the shortcomings of existing ECG devices, with Yuhan Corp. as a distribution partner in Korea.
The device measures ECG for up to 14 days, analyzes the data, and assists physicians in diagnosis.
With the ECG wearable launch, Huinno hopes to lead prevention of heart disease, the second leading cause of death.
Gil said he could see investors' growing interest in digital health innovations at both CES 2023 and the 41st J.P. Morgan Healthcare Conference.  
"I met various investors, and most of them painted a rosy picture for digital healthcare," he said. 
"Also, many investors acknowledged that Korea is one of the powerhouses leading the global digital healthcare industry."
The company recently set up  KHAI Center, a joint venture (JV) with Korea University College of Medicine. The joint venture will quantify numerous medical data at hospitals under Korea University that are now atypical.
"Using the quantified data, AI will control and monitor dangerous patients and inform physicians of patients who will are at high health risks," Gil said.
US investor sentiment worse than that of Korea
While investors participating at the 2023 J.P. Morgan Healthcare Conference agree that the digital healthcare sector will become huge, it will take a little more time for U.S. investor sentiment to return to normal because of the looming global recession, Gil said.
"I've met with various investors during the conference, and was amazed that the U.S. investor sentiment was worse than Korea," Gil said. "Some U.S. investors I talked to said if Korea's investment market is currently at minus 10 points, the U.S. investment market is at minus 100 and has completely frozen up."
Some U.S. investors even told him that fundraising in 2023 would be much easier in Korea.
Despite the shrinking investment market, Gil stressed that Huinno is still an optimal company to invest in.
"We already have a strong partnership with Yuhan in Korea and we are now trying to expand in the Asian market as well," Gil said. 
When the licensing out is completed in the Asian countries, Huinno anticipates that there will be a fixed income of $5 million to $10 million a year, considering the minimum purchase quantity, Gil added.
Gil also said Huinno has a strong balance sheet.
"Looking at the current cash flow, even if we do nothing for the next decade, if we look at the employee payroll alone, we can run the company for more than 10 years without any problems," Gil said. "Therefore, our financial soundness will improve even more, as we achieved sales of 4 billion won ($3.2 million) through a contract with Yuhan last year."
Huinno expects the 2023 sales to reach 5 billion won.
link