A 40-year dream, healthcare clinic to open in heart of Corktown- Detroit Catholic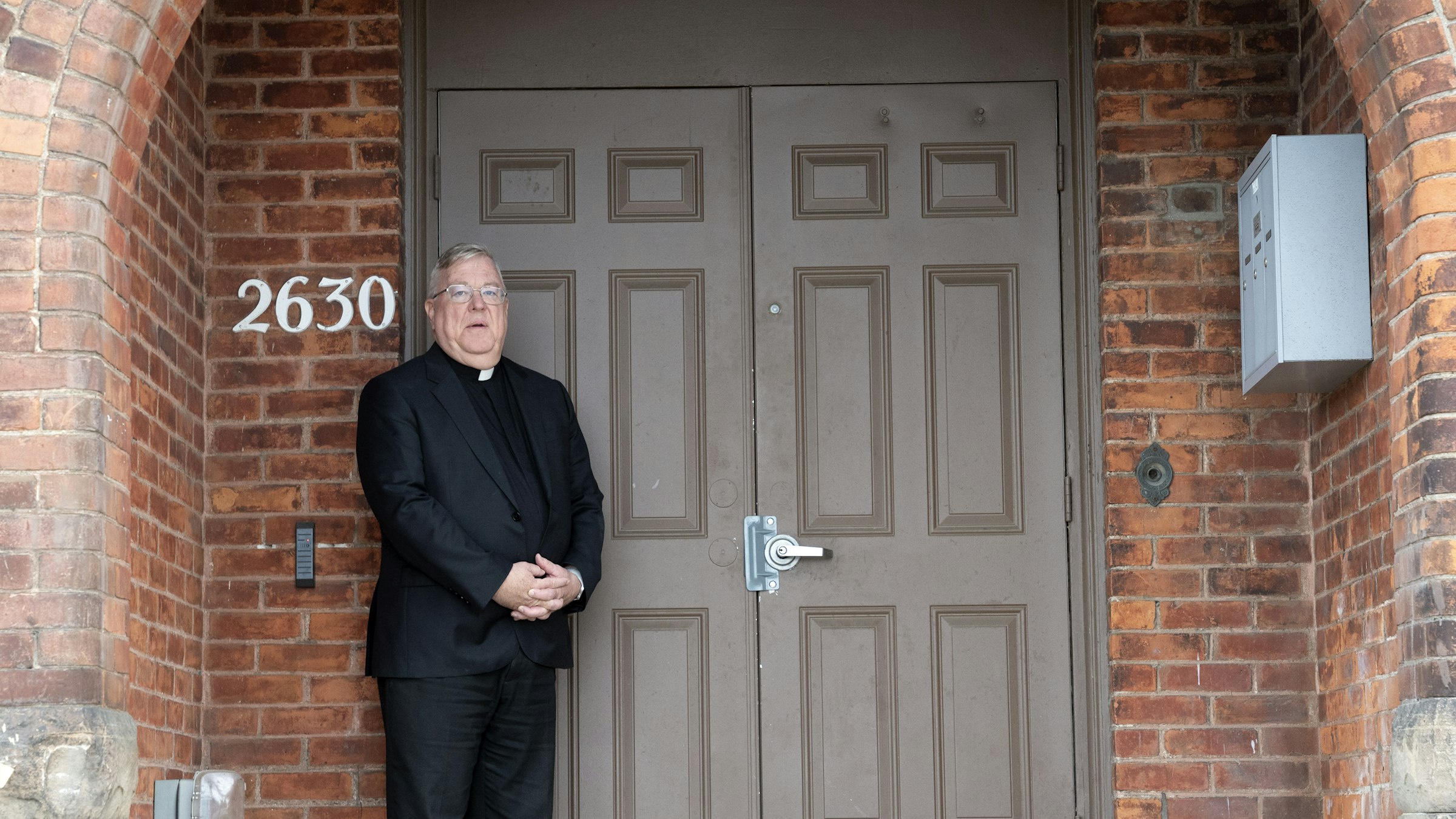 Msgr. Charles Kosanke, rector of the Basilica of Ste. Anne in Southwest Detroit, stands in front of the Heart of Christ Clinic, located inside the basilica's former convent in southwest Detroit. The old convent will now house a comprehensive health care clinic that wishes to address not only physical but spiritual needs, with the dignity of the person at its heart. (Photos by Gabriella Patti | Detroit Catholic)
In partnership with Knights of Columbus, Catholic Charities, Ste. Anne and others, vision for medical clinic comes to fruition
DETROIT — Thanks to the Holy Spirit, Mike and Peggy O'Dea's 40-year dream of a Catholic health care clinic in the heart of Detroit came to fruition in less than two years, opening tentatively in October.
The Heart of Christ Clinic, a comprehensive health care clinic for women and children located at the former convent of the Basilica of Ste. Anne in southwest Detroit, will address not only physical, but spiritual needs, with the dignity of the person at its heart.
The clinic is the result of a host of partnerships, including the O'Deas, along with the organization they founded, Mother and Unborn Baby Care in Southfield; the Michigan State Council of the Knights of Columbus; Trinity Health; Ascension Health; the Christ Medicus Foundation; the Order of Malta; Catholic Charities of Southeast Michigan; and the Basilica of Ste. Anne.
However, the idea for the project goes back over four decades.
The new clinic, right, situated next to the basilica's parish hall, has come together thanks to a number of benefactors, including the Christ Medicus Foundation, the Knights of Columbus, Catholic Charities of Southeast Michigan, the Order of Malta, Trinity Health, Ascension Health, Mike and Peggy O'Dea of Mother and Unborn Baby Care, and many more.
"Peggy and I were married for about seven years, and we weren't able to have children, and we got very involved in our faith. One day, the Lord spoke to Peggy, and (in turn) she said, 'We need to help pregnant moms,'" Mike O'Dea explained to Detroit Catholic.
The O'Deas began to work with pregnant mothers in different capacities, but soon realized that, in many cases, women needed more services than they were able to provide. In crisis, many of these women were offered abortion as the only option, rather than any additional support and resources that would allow them to keep their babies.
The couple founded Mother and Unborn Baby Care in Southfield, a pro-life pregnancy resource center, in 1984, which provides counseling, baby items and referrals to medical care, housing and adoption services. But the need for medical services was apparent.
"We wanted to make sure they were treated with the appropriate dignity," Mike O'Dea said. "Things weren't always working right for these women and girls, so they had to have someone who was really compassionate and caring, and we always dreamed that we could have a clinic that would put the health and welfare of these moms and their children first rather than just given the simple answer by aborting their children."
The O'Deas prayed for 40 years — along the way, adopting five children and giving birth to two biological children after years of being told it was an impossibility — and then, during a Mass at Ste. Anne in January 2022, everything fell into place.
Msgr. Chuck Kosanke remembers his homily at Mass that day. It was about the need for action when it came to being pro-life; Catholics can't just say they are pro-life; they have to act on it, he said.
Mike and Peggy O'Dea, who in 1984 founded Mother and Unborn Baby Care, a pro-life pregnancy resource center in Southfield, said it's always been a dream to open a full-service medical clinic to help provide women, children and the underserved with dignified medical care in a pro-life, Christ-centered environment. (Photo courtesy of Christ Medicus Foundation)
"Mike O'Dea came up to me after Mass and said, 'I have been wanting to do a clinic for some time; I want to see what we can do to make that happen,'" Msgr. Kosanke, rector of the basilica, told Detroit Catholic. "After the same Mass, Dr. Thomas Meyer (OBGYN) came up to me and said, 'I am getting ready to retire, and I would like to be able to do something toward this (pro-life) effort.'"
As it happened, Ste. Anne's former convent had recently been renovated for $1.6 million by a donor who wanted it to be a residential building for mothers and children. However, because of the pandemic, the project fell apart.
"The donor's wife said to me, 'We still would very much like the convent to be used for some pro-life purpose,'" Msgr. Kosanke explained. "At the time, I wasn't sure what that was going to be, but as a result of the conversation with Mike O'Dea and Dr. Meyer, I said (to them), 'Why don't you come and see the convent of Ste. Anne, and see if that would suit your purpose?'"
Through his work with the Knight of Columbus, Msgr. Kosanke was able to bring the Knights on board, and, as chairman of Catholic Charities of Southeast Michigan, he invited the organization in as partners with the clinic to facilitate counseling and adoption services. In addition to the clinical space itself, there will be a chapel on site, where the Knights will lead a rosary several times a month, Mass will be offered, and patients can find a place of refuge to pray.
The clinic will offer a comprehensive slew of medical services, said Dr. Lisa Knysz, the clinic's director.
Dr. Knysz, who attends St. Hugo of the Hills Parish in Bloomfield Hills, has a long history of building clinics from the ground up.
Msgr. Kosanke shows off one of the medical examination rooms at the soon-to-be-opened Heart of Christ Clinic. The clinic will offer a comprehensive range of services and work with all insurance providers, as well as those with no insurance.
"(Heart of Christ Clinic) will be offering women's health services as well as family services," Dr. Knysz said. "We serve from birth to death."
Women's health services will include prenatal and postnatal care, OBGYN visits, and abortion reversal, Dr. Knysz said. Additionally, they will offer comprehensive health care for the whole family and, down the road, will offer vaccines for children.
The clinic will accept all forms of insurance, from Medicaid to Medicare and all commercial insurance. However, if a patient doesn't yet have insurance, the clinic will still serve them and will help them to procure insurance.
"We will work with the Malta Dental and Medical Clinic (in Midtown). They provide care for individuals who either don't have insurance or aren't able to get it," Dr. Knysz explained. "We aren't going to turn someone away simply because they don't have active insurance today."
In addition to Dr. Meyer, who will serve as head physician, the staff will have a nurse practitioner, a physician's assistant, several medical assistants and front desk and office workers. This 40-year vision of the O'Deas will not just end in Detroit, however.
"The vision is to have these in every diocese in the country, starting out with Michigan, and I think that in 2025, we will have one in the Diocese of Lansing and who knows where else," Mike O'Dea said. "We will help anybody anywhere in the country, and of course, the Knights of Columbus have really gotten behind this, and they would like to support us in every diocese in Michigan."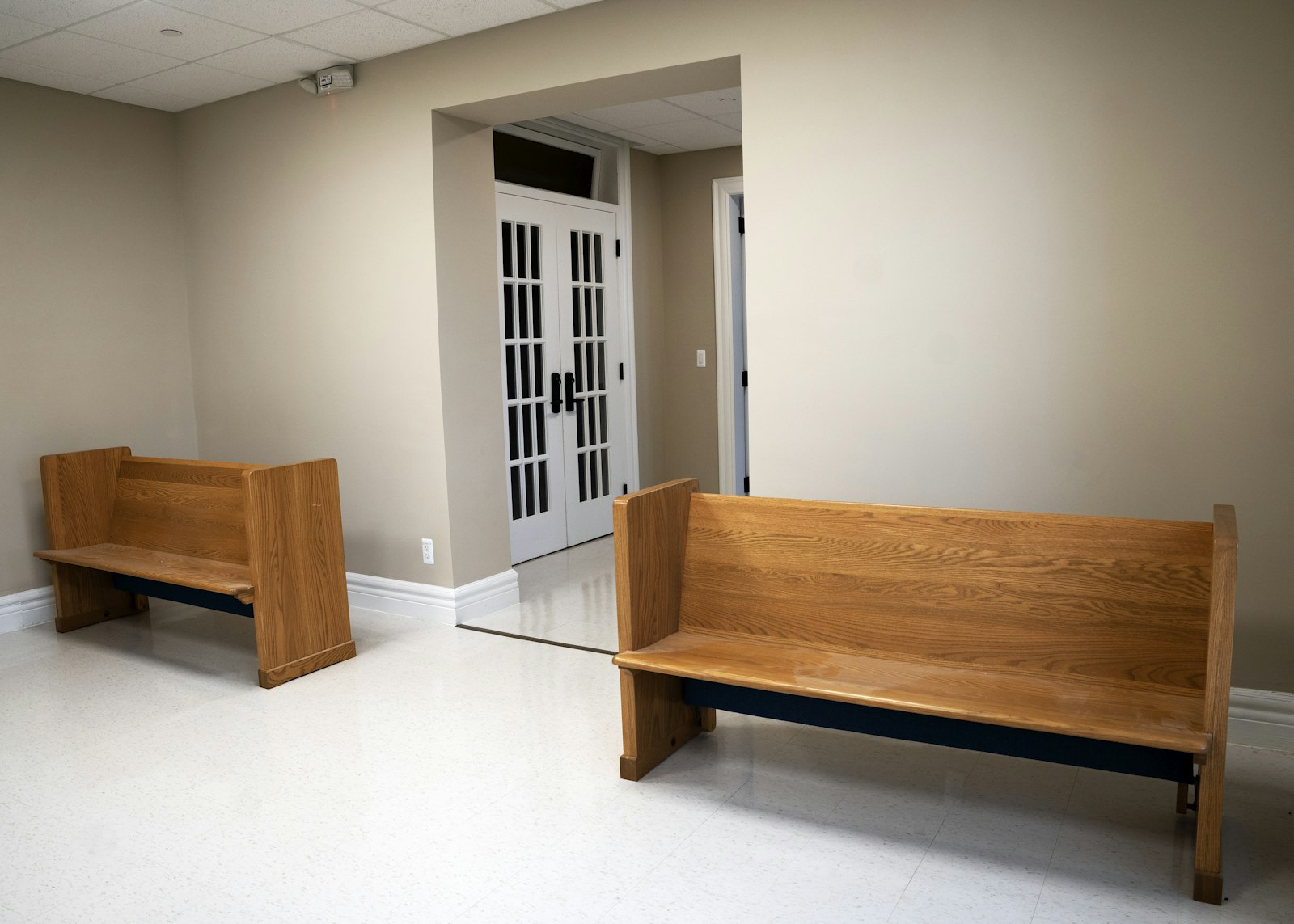 The chapel is located to the left as soon as you walk into the clinic doors. The idea is that it will be open to everyone, even those who aren't patients, Msgr. Kosanke said.
This clinic model will be unique, not only for the comprehensive care beyond the physical needs, but because of the emphasis on relationship building and time spent with patients, Dr. Knysz said.
"I think a lot of times when individuals have Medicaid, they don't feel like they deserve better, or they walk into a doctor's office where they accept Medicaid, and it might be dingy or basic or substandard care, and they come to expect that is what they are going to receive," Dr. Knysz said. "I believe every individual should have access to care that I would have for myself or my family. It has always come from my parents, who raised me that if you are blessed, you always give back to your community. I have always felt really strongly that individuals deserve outstanding care."
Part of being effective and different means spending time with the patients and developing rapport, Dr. Knysz said.
"It is important for us to educate individuals that they have the right to be heard," Dr. Knysz added. "They have the right to receive solid, outstanding medical care, and they have the right to build a relationship with their provider so they can have an honest, open dialogue about their health in a safe space."
Copy Permalink
Suggested reading
Christian service
Pro-life
link