Health Awards 2022: Women's Healthcare To Cardiology, Check List Of Winners Category-Wise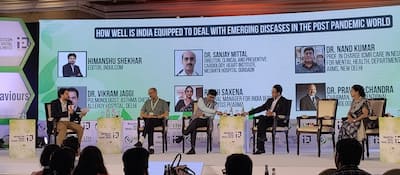 All the experts present at the event have contributed immensely to the betterment of the health sector of the country.
Zee Digital in association with TheHealthSite.com, organised the first edition of Health Awards 2022 on Sunday. The event was organised to felicitate and honour the health experts, leaders and achievers in the health sector of India. All the experts present at the event have contributed immensely to the betterment of the health sector of the country. Each of these contributions has been awarded on a set of parameters, which includes – efforts and innovations.
In the last two and a half years, the world has faced several health challenges – the COVID-19 pandemic, the monkeypox outbreak, the ebola virus spreading across Africa, and many more. During this tough time, the set of people who have worked day and night to keep the common people safe is the health care workers. The event was organised to show respect for what they have done and know how India is going to develop the health sector in the upcoming years, in order to face such challenges gracefully. The awards were honoured by Dr Bharati Pravin Pawar, Minister of State for Health and Family Welfare, who also addressed the gathering and shared her insights on the health care system.
Take a quick look at the complete list of winners at the Health Awards 2022 (an initiative by TheHealthSite.com and Zee Digital) below.
Health Awards 2022 Complete List of Winners
Lifetime Achievement Award —- Dr C. K. Durga
Excellence in Patient-Centric Initiative —- Ayur Matam
Orthopaedic Surgery —- Dr Dhananjay Gupta
Fertility treatment —- Dr Nandita Palshetkar
Oncology —- Dr Ravi Kannan
Interventional Cardiology —- Dr Praveer Agarwal, Executive Director at Fortis Escorts Heart Institute
Opthalmology —- Padmashree Dr Manipal S Sachdev
Nephrology —- Dr Suresh Sankar, a leading Nephrologist, Sr VP-Clinical Affairs, NephroPlus
Internal medicine —- Dr Sandeep Budhiraja, Medical Director Max Hospitals
Women's Healthcare —- Dr S Shantha Kumari
Individual contribution in Neuromodulation Therapies (TMS) in Psychatric Disorders —- Dr Dhruv Bagati
The summit also aimed at addressing the rising concerns of the Indian Healthcare Ecosystem and what is required to be done to alleviate the lacking points.
Total Wellness is now just a click away.
Follow us on

link