'No Albertan will will ever have to pay': Smith touts UCP health pledge
"It means that a UCP government, under my leadership, will not de-list any medical services or prescriptions now covered by Alberta Health Insurance. No exceptions."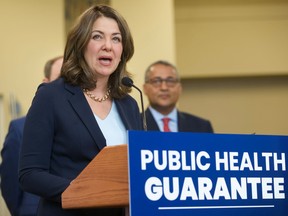 Article content
Under a growing tide of controversies, Premier Danielle Smith Tuesday promised her party's public health guarantee will ensure Albertans will always have access to public health care services.
Smith, at an announcement in Sherwood Park, said the pledge will mean a re-elected UCP government will not de-list any medical services or prescriptions now covered by the Alberta Health Care insurance plan.
Article content
"The UCP is committed, to all Albertans, that under no circumstances will any Albertan ever have to pay out of pocket for access to their family doctor or to get the medical treatment that they need," said Smith.
Smith's announcement comes after news on Monday that Alberta's ethics commissioner is investigating whether or not the premier interfered with the administration of justice over a pandemic-related case. In response to reporters' questions about the details Tuesday, Smith declined to comment but reiterated she is cooperating with the commissioner.
When asked about Livingstone-Macleod UCP candidate Chelsae Petrovic's February comments that people who suffer heart attacks should take more personal responsibility for their health, Smith said she was pleased to see Petrovic clarify she should have used better language.
The premier also accused the Opposition NDP of lying about the UCP government's health care policy. For months, New Democrats have been pointing to Smith's record of discussing the possibility of payments for health services, including check-ups with family physicians.
"Is that something that really has to be covered 100 per cent by government?" Smith said in one 2021 video.
Article content
Since then, Smith has said her health policy will comply with the Canada Health Act and not force out-of-pocket payments for services like visits to doctors.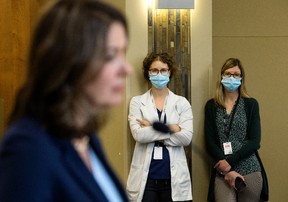 One of the most 'widely-mocked broken promises of the Kenney era': NDP
At a Tuesday news conference, NDP health critic David Shepherd expressed surprise that Smith was repeating the same pledge made by former premier Jason Kenney ahead of the 2019 election.
"It's certainly unexpected for Danielle Smith to choose to bring back one of the most infamous and rightfully and widely-mocked broken promises of the Kenney era, an era marked by ongoing attacks on health-care workers and cuts that undermined Albertan's access to care," said Shepherd.
Alberta ethics commissioner investigating whether Premier Smith interfered with administration of justice

NDP calls on United Conservative MLAs to denounce Artur Pawlowski's views

Danielle Smith says call with Artur Pawlowski was between two party leaders
The UCP has been touting the success of its health care reforms under interim administrator Dr. John Cowell, including decreasing ambulance response times, emergency department wait times, and surgery backlogs.
Scott Johnston, Alberta Health Minister Jason Copping's press secretary, said in a statement to Postmedia since 2019 the province has added 700 physicians and nearly 6,000 staff in Alberta Health Services (AHS) including 1,800 registered nurses and 300 paramedics. Of all nursing staff, 800 were added last year and more than 300 this year so far, he said.
Article content
Shepherd said regardless of how many more doctors and health-care professionals have been hired back, too many have been lost and there continue to be "huge numbers" of unfilled shifts. He pointed to dozens of health facilities across the province that remain partially closed due to staffing shortages.
AHS figures obtained through a freedom of information request and released by the NDP show  last December there were more than 1,990 registered nursing shifts unfilled at AHS hospitals, but by Jan. 22 that number had grown to nearly 2,700 unfilled shifts.
The percentage of unfilled shifts in January last year sat at 3.9 per cent, and after peaking at 4.7 per cent two months later, was 4.4 per cent this January.
"This government is trying to hide their record, trying to patch things up with duct tape and baling wire to try to just make it past May 29, so they can get back to their work undermining, attacking and dismantling our public health care system," said Shepherd, referring to the election expected late next month.

link