St. Claire HealthCare joins University of Ken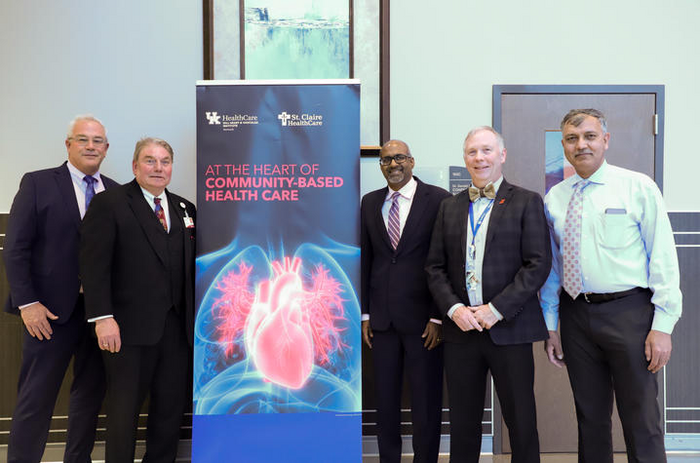 LEXINGTON, Ky. (Feb. 8, 2023) — UK HealthCare and St. Claire HealthCare have announced a collaboration to expand cardiovascular services to the Morehead area.
St. Claire HealthCare (SCH) now offers Morehead-area residents the benefit of UK HealthCare physician expertise in subspeciality cardiovascular services as part of the UK Gill Heart & Vascular Institute's Gill Affiliate Network.
"We are thrilled to become a part of the Gill Affiliate Network," said Donald H. Lloyd II, president/CEO of St. Claire HealthCare. "With the additional benefits and resources of all the affiliate members, we will be able to make a huge difference in the cardiovascular health of our region. People will have access to advanced cardiovascular care without having to travel and this helps us to fulfill our mission to the people of Eastern Kentucky."
Heart disease is the leading cause of death in Kentucky and the state has one of the country's highest rates of heart disease. UK Gill Heart & Vascular Institute is at the forefront of the battle against heart disease and stroke. The network's goal is to provide every patient with exceptionally compassionate care in the safest, most appropriate manner possible, based on the best evidence and the latest technological advances.
As part of these measures, UK Gill Heart & Vascular Institute works with a large network of regional and community hospitals across the state to enhance access to high-quality cardiovascular care and to provide the right care in the right place at the right time. The affiliate network includes 21 hospitals, more than 10 outreach location and seven sites where Gill provides cardiac image interpretation services across the spectrum of imaging modalities.
"For many Kentuckians, traveling to Lexington for subspecialized care isn't feasible, so working directly with local hospitals is key to addressing the cardiovascular needs of rural communities," said Navin Rajagopalan, M.D., heart failure cardiologist and director of the UK Gill Affiliate Network. "St. Claire has a long history of serving the people of northeastern Kentucky with excellent patient care. We're honored to be part of this community and to partner with their providers to bring advanced care to patients with complex heart disease."
This partnership ensures that the full complement of heart care, from medical cardiology to vascular and cardiothoracic surgery, is accessible to the citizens of Kentucky and the region. Network hospitals benefit from affiliation by not only having access to program development, clinical training and community outreach, but also by collaborating with Gill physicians to ensure patients receive local care for as long as possible.
"The affiliation between SCH and the Gill Affiliate Network will greatly enhance all of SCH's cardiovascular services and programs," said Jeff Hughes, director of cardiopulmonary services at St. Claire HealthCare. "The 'Best Practice' guidelines and quality initiatives available through GAN will also help with our goal of being able to provide the best cardiovascular care possible to the people of our community."
UK HealthCare is the hospitals and clinics of the University of Kentucky. But it is so much more. It is more than 10,000 dedicated health care professionals committed to providing advanced subspecialty care for the most critically injured and ill patients from the Commonwealth and beyond. It also is the home of the state's only National Cancer Institute (NCI)-designated cancer center, a Level IV Neonatal Intensive Care Unit that cares for the tiniest and sickest newborns, the region's only Level 1 trauma center and Kentucky's top hospital ranked by U.S. News & World Report.  
As an academic research institution, we are continuously pursuing the next generation of cures, treatments, protocols and policies. Our discoveries have the potential to change what's medically possible within our lifetimes. Our educators and thought leaders are transforming the health care landscape as our six health professions colleges teach the next generation of doctors, nurses, pharmacists and other health care professionals, spreading the highest standards of care. UK HealthCare is the power of advanced medicine committed to creating a healthier Kentucky, now and for generations to come. 
---
Disclaimer: AAAS and EurekAlert! are not responsible for the accuracy of news releases posted to EurekAlert! by contributing institutions or for the use of any information through the EurekAlert system.
link