The test that could save you from a heart attack
More suitable treatment
"What it would mean is that we would treat your cholesterol and blood pressure more aggressively than if you had a lower Lp(a)," Professor Nicholls said.
The level of Lp(a) in someone's bloodstream is largely genetically determined and is difficult to lower through exercise or other lifestyle changes such as improved diet, better sleep, reduced alcohol intake and quitting smoking.
There are no Therapeutic Goods Administration-approved treatments to lower Lp(a). But Professor Nicholls said several therapies in the final stages of clinical trials had shown promise in reducing levels of the lipoprotein, which means that knowing whether a patient has high levels of it could soon become even more helpful.
"If we don't know if somebody's got a high Lp(a), how can we treat it?"
Professor Nicholls advised people undergoing heart health checks with their GPs to ask for an Lp(a) test as it would lead to a more appropriate treatment plan. The out-of-pocket expense is between $30 and $50.
'Save a lot of lives'
John O'Sullivan, professor of cardiometabolic medicine at the University of Sydney and a cardiologist at Royal Prince Alfred Hospital, said adding Lp(a) testing to Medicare would uncover a lot of hidden risk and "save a lot of lives".
"Lp(a) is the most atherogenic molecule, on a particle-to-particle basis," Professor O'Sullivan said. This means that no other particle promotes the formation of plaque in our arteries more than Lp(a).
He advises everyone to get their Lp(a) tested at least once in their life, as is now recommended by the European Society of Cardiology.
But he added that targeting a reduction in a patient's LDL-C level – or their "bad cholesterol" count – remained one of the most effective ways of minimising a patient's risk of a heart attack. Other effective lifestyle interventions include quitting smoking, minimising alcohol consumption, getting regular exercise, avoiding diabetes and sleeping between seven and nine hours a night.
"Exercise is our most potent drug," Professor O'Sullivan said.
Other cardiologists agree that Lp(a) greatly contributes to the development of atherosclerosis but believe that Medicare should only fund tests for people with a family history of premature heart disease, while the Royal Australian College of General Practitioners stated earlier this year that more evidence was needed to justify incorporating it into standard practice.
Hidden risk
Peter Psaltis, who leads the heart and vascular program at the South Australian Health and Medical Research Institute, believes the test should be made available to "adults who have established or very high risk of atherosclerotic disease, whether it be coronary, peripheral or carotid".
This includes individuals with vascular disease before the age of 60 for women and 55 for men; patients with a family history of early atherosclerotic disease, hyperlipidemia (high cholesterol) or high Lp(a); and people with stubbornly high LDL cholesterol that does not respond well to statins or other therapies.
"It's hard to quantify how much extra risk Lp(a) accounts for. But we know that probably somewhere in the order of one out of 10 people who have heart attacks don't have obvious risk factors when we just look at the traditional things that we've measured for years and decades – your family history, smoking history, blood pressure, diabetes, traditional LDL cholesterol," Associate Professor Psaltis told AFR Weekend.
"When you look at those things, there are still probably one in 10 people with coronary disease [for whom] we just can't explain their risk. And Lp(a) is something that we should certainly think of in those individuals." One in five caucasian Australians were estimated to have elevated levels, and higher prevalence rates had been found in other ethnic groups.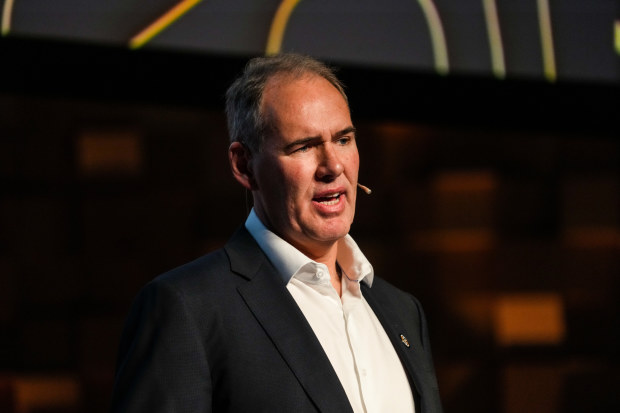 Professor Jason Kovacic, executive director of the Victor Chang Cardiac Research Institute, agreed that "it is not yet appropriate to test Lp(a) in everybody".
"Because if you've got a very good family history … and you've got a healthy lifestyle, I think it's unlikely to be a problem," he said.
The renewed push to add Lp(a) to Medicare coincides with the federal government's decision to guarantee public funding for the Medicare-funded Heart Health Check until June 30, 2025. Funding was previously due to expire on June 30 of this year.
The health check takes less than 30 minutes and involves a GP taking your blood pressure, asking you questions about your lifestyle and family history, and requesting blood tests that measure your blood sugar and level of "good" (HDL) and "bad" (LDL) cholesterol. It is available to people over the age of 45 and Indigenous Australians over 30.
Asked whether the government had plans to add Lp(a) testing to Medicare, a spokesman from the Department of Health and Aged Care said it was considering it.
"The listing of new medical services on the MBS goes through an assessment by the Medical Services Advisory Committee (MSAC)," the spokesman said.
"MSAC appraises new medical services proposed for public funding and provides advice to government on whether a new medical service should be publicly funded on an assessment of its comparative safety, clinical effectiveness, cost-effectiveness, and total cost, using the best available evidence.
"MSAC is currently considering MBS funding for Lipoprotein(a) testing as an independent predictor of cardiovascular disease (MSAC application 1736)."
link