Woman, 24, spends 22 days in hospital fighting for her life after sudden heart failure, Singapore News
At 23, the most people would expect to go through is heartbreak — but this woman had an unexpected bout of heart failure which nearly took her life.
On April 22, Kang Ziying felt a sudden pain in her chest alongside dizziness and vomiting which prompted her to seek medical help.
Kang, a student at Republic Polytechnic, was immediately warded as her condition quickly became life-threatening.
Kang's electrocardiogram showed that she had an accelerated heart rate. Her breathing also became more laborious, and the last thing she could recall was being wheeled off into an operating theatre.
According to the National University Heart Centre (NUHCS), Kang was found to be suffering cardiogenic shock from inflammation of the heart (fulminant myocarditis).
Cardiogenic shock is a condition with fast onset and potentially fatal results, as the heart is damaged and can no longer pump sufficient blood to meet the body's needs.
"There was a very high risk that her heart would stop functioning and immediate intervention was needed to save her life," said Assistant Professor Lin Weiqin, NUHCS' Clinical Director of the Heart Failure and Cardiomyopathy Programme.
The young woman was put on Extracorporeal Membrane Oxygenation (ECMO) life support, which took over the functions of the heart and lungs of the most critically ill patients.
Her condition, however, was so severe that doctors added a device on top of ECMO in order to support the left side of her heart and relieve the pressure on her heart.
Before this incident, Kang never had any heart problems.
"I was actually quite scared because I didn't know why it happened, it all felt very sudden. I was a normal person before," Kang told 8world reporters.
[[nid:638130]]
Kang's life was saved after intense treatment by NUHCS' multidisciplinary cardiogenic shock team, the only such team among local public hospitals trained to support patients with combination mechanical circulatory support devices known as ECPella.
But the battle wasn't over just yet as Kang entered the recovery phase.
Seeing her once-healthy child fighting for her life in the intensive care unit, left Kang's mother, Yao Meifen, feeling distressed. 
However, her main hope was that her daughter would get well as soon as possible.12 days after surgery, Kang finally regained consciousness. 
She recalled: "The rehabilitation doctor came in and told me that I needed to go for rehabilitation. [The thought] scared me. Why did I suddenly have to go for rehab?"
As it turns out, Kang believed that she had only slept for a day or two. She only found out that close to two weeks had passed after a doctor shared the date with her.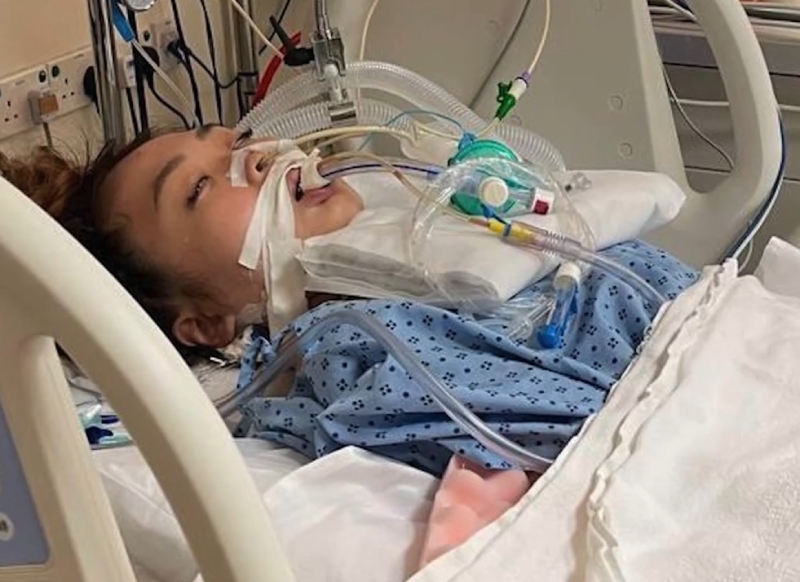 After spending 22 days in hospital, Kang was finally discharged. But she's not out of the woods yet.
Kang, who celebrated her 24th birthday in June, shared that her heart is currently operating at 30 per cent capacity. She is still on medication and has to go for regular check-ups.
The brush with death has also forced the young woman to switch up her living habits.
Kang said: "I'm a person who enjoys going out to play and may sometimes stay out late. Now, I might not be able to do so as much as I need to rest more."
Don't take health check-ups lightly, Kang says
Dr Lin explained that because young people have deep physiological reserves, symptoms will only appear when this reserve is almost depleted.
Even when the symptoms of dizziness, fatigue, loss of appetite and nausea appear, they're common ailments and it is therefore difficult to detect if there's an underlying condition, he said.
Kang shared that she had a slight fever a few days before she was hospitalised, but she felt fine enough and went to school as per usual, going through her day until the point she started vomiting.
Young people shouldn't take their health for granted and should go for regular check-ups so that any symptoms or underlying conditions can be discovered before it is too late, she urged.
link